How We Got Started
---

Moses Ruiz, founder of FunTastic Media and creator of the SEE ME GROW ™ Baby Ruler Growth Mat, was inspired by all of his 8 nephews and 2 nieces, and now a father to a healthy beautiful son. We would always gather for family functions and holidays and could never keep up with all their growth spurts. It's beautiful and amazing seeing them literally grow right in front of you.
SEE ME GROW ™ Baby Ruler Growth Mat is a prized and Patent Pending creation of FuntasticMedia, a company dedicated to the development of practical, functional infant, baby and toddler products since the early 2000s. Since inception, FuntasticMedia has worked in cooperation with nationwide health care providers to supply new mothers with innovative tools for raising their babies in a safe and comfortable environment.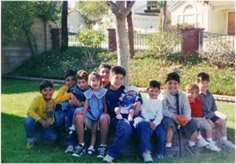 Funtastic Media donates a percentage of all sales and proceeds to organizations like the March of Dimes, American Cancer Society, American Stroke Association, Children's Hospitals and St. Jude Children's Research Hospital or any charitable program devoted to supporting the well-being of babies. Funtastic Media has also strategically partnered up with leading Retailers nationwide, selling it prized and Patent Pending Baby Ruler Growth Mat called SEE ME GROW ™ and now Verme Crecer for all spanish speaking mothers.
Thank you so much for your time and interest. Please contact us with any questions, concerns or comments at info@funtasticmedia.com.