Press & Testimonials
---

Customer Testimonials
Having this See Me Grow™ Baby Ruler Growth Mat has been the greatest item I received as a gift. I love the fact that I can see my son's growth monthly and it reassures me that he is doing just fine. I also love the way I can make notes on the mat on a daily basis and then transfer to my baby book when I have the time. Taking this to the doctor when my son has his visit's has been so wonderful because I am so well organized. I love it so much I got one for all my friends who have babies. I've made his baby and hand prints on the mat and I treasure them because they grow so fast….Sometimes it's the little things in life, that make your life easier and happier…Thanks See Me Grow™ Baby Ruler Growth Mat! – Lucy, Upland, CA
As a mother of 3, I have used many "gadgets" to help me through the day, but nothing has been more handy than the See Me Grow™ Baby Ruler Growth Mat. This growth mat has been the most used and convenient item in my diaper bag. Obviously I use it in public areas to keep my baby safe from germs when I change his diaper, but because I'm able to chart his growth on it, it's convenient at doctor visits as well. I don't have to worry if I forget his "baby book", I have the mat with me ALL THE TIME and I just write the information on the mat. Wow, why wasn't this available sooner…? – Marissa, Newport Beach, CA
When my first daughter was born, I had received the See Me Grow™ Baby Ruler Growth Mat and took it everywhere. The portability and the ease of use when changing her was so convenient, that I found it indispensable. I was able to easily fold and roll the See Me Grow™ mat, and place it into the diaper bag. I also loved the way I can measure her growth with the growth mat. By the time I had my second daughter, I needed to replace the See Me Grow™ Baby Ruler Growth Mat with a new one because I had used the first one so frequently. I found the Baby Growth Matt to be so useful that I highly recommended it to all my friends with babies. – Laila, Hartford , CT
I have 3 children, but did not get the See Me Grow™ Baby Ruler Growth Mat until the birth of my third child. It has become one of my most prized possessions because I can measure my daughter's growth without having to wait until the next doctors appointment. I also take it everywhere I go and use it as a diaper changing pad. It protects my baby from germs and bacteria and it is so easy to clean. The baby See Me Grow™ Baby Ruler Growth Mat is the perfect baby shower gift and I highly recommend it. – Tonya, Las Cruses, NM
Hospital Testimonials
Dear FunTastic Media,
On behalf of the Babies First Program at California Hospital Medical Center, I'd like to thank you for your wonderfully creative product. The See Me Grow™ Growth Mat/Changing Mat has been ideal for parents'daily use;washable and versatile, the mat allows them to create a comfortable and clean are for theirbaby while on the go. Parents are very pleased with See Me Grow™ and many have expressed how fun itis to use as a refernce of their baby's growth. Mildred - California Hospital Medical Center, CA
Funtastic Media has produced a wonderful product in the See Me Grow™ Baby Ruler Growth Mat ChangingPad. The mothers receive the mat when returning to our Birth and Beyond Center. The love the growthmat in that they can monitor the growth of their baby during the first 3 years of a baby's life. Themothers can take the mat to the Pediatricians visits and the physician together can chart there growthspurts. FunTasticMedia has produced a product that is both versatile and fun for the parents. I can seethis being a wonderful gift at an expectant mother. Thank You, Janel - Chino Valley Medical Center , CA
FunTastic Media's See Me Grow™ Baby Ruler Growth Mat has been the perfect gift to baby's and newparents in our Dr. Fedrick S. Eadie Birthing Center for the past few months. Our Nurse Manager of theBirthing Center initially brought the idea to me. When handing out the Baby Ruler Growth Mat to newparents, she mentions the wide variety of uses for example; at home, the beach, in the car and on everyphysical check ups. – Ginny, The William Backus Hospital , CT
Dear FunTastic Media,
The nurses are very excited about giving the mothers and their new born babies the See Me Grow™ BabyRuler Growth Mat Changing Pad in the Nursery Unit at Rehoboth McKinley Christian Hospital . Thanks toFunTastic Media, the mothers can take home a comfortable changing mat for there newborn and keepsake memento as a reference of their child's birth. It also serves the purpose of tracking their child's growth, over several months, which the mothers love. Thank you, Funtastic Media for a wonderful, useful, versatile product for both mother and child. Something they will truly appreciate and use from day one. – Monica - Rehoboth McKinley Christian Hospital , NM
Press
---
See In…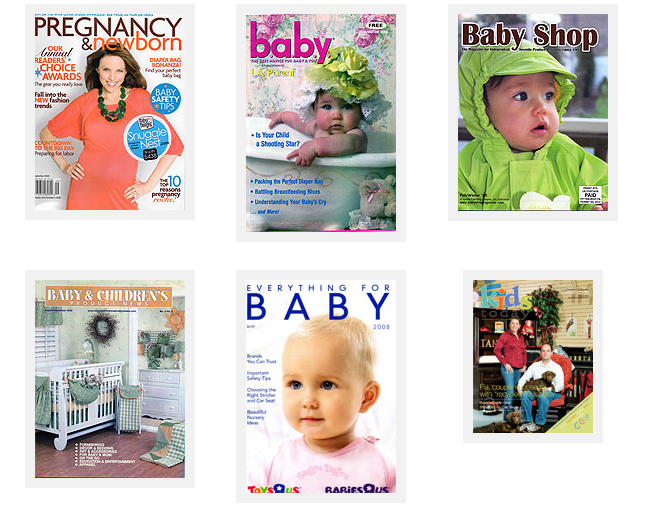 Awards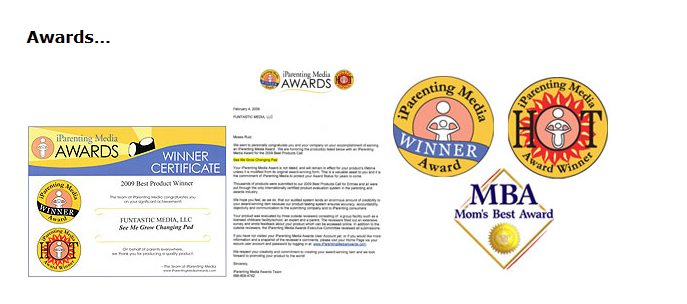 We are so #proud to be the newest sponsor for an organization we #love Baby2Baby
Baby2Baby provides children living in poverty, ages 0-12 years, with diapers, clothing and all the basic necessities that every child deserves.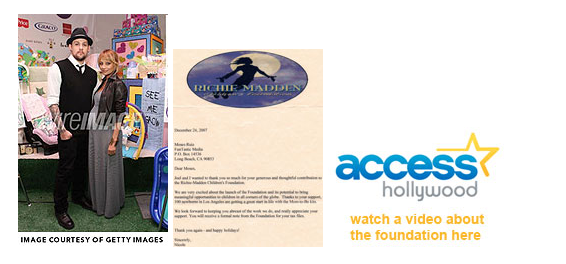 Richie Madden Children's Foundation
The Richie-Madden Children's Foundation is dedicated to bringing meaningful opportunities to children in all corners of the globe, while also striving to bring light and laughter to their lives through unique entertainment and special events. Watch a video here. - http://www.accessonline.com/videos/nicole-joels-baby-shower-surprise/
Mother-to-be Nicole Richie is spreading her maternal spirit this holiday season and she revealed to Billy Bush the special surprise she has in store for 100 other expectant moms.