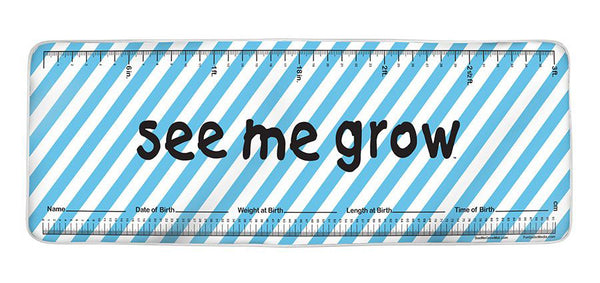 Blue Diagonal Stripes See Me Grow™ Mat
Finally a Growth Mat for babies. Quilted Travel Baby Ruler Growth Mat-changing pad.
Here's a must-have gift for new mothers, perfect to take to every physical checkup. You can write important information, becoming a true keepsake item.
Chart your baby's growth spurts with 3 feet of priceless space to outline your baby's hands and feet and remember forever their development.
Endorsed and used by leading Health Care systems nationwide.
Chart your baby's growth on the cloth-side with a growth chart.
Reverse side perfect for changing diapers when mothers are on the go.
Great for travel.
Folds and/or rolls to fit any baby bag.
Washable and dryable for everyday use.
Endorsed and used by Health Care Systems Nationwide.
Becomes a true Keepsake item.
Finally a Growth Mat for Babies. See your Baby's Growth Every day! New mothers can chart their baby's growth every day, every week, and every month with our new Growth Mat Changing Pad! Click on mats for more fabric selections!
Adorable keepsake
Im so happy with these mats. I ordered matching set. Great quality and been very convenient to have at home and on the go. Also ordered the adorable onesie in blue with dots. Delivered fast and nice packaging. Very happy with this purchase!