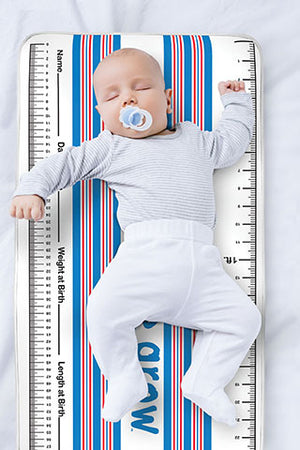 OUR MISSION. OUR PROMISE.
We're helping new parents raise healthy and happy babies.
Hi, I'm Moses Ruiz, founder of Funtastic Media and creator of the popular US Patent Pending See Me Grow™ Baby Ruler Growth Mat.  Inspired by my ten fast growing nieces and nephews, I started this company in 2000.
Our goal has always been to help parents raise their babies confidently and never miss a growth spurt.  But years later, when I brought my son home after his time in the NICU, everything changed.
I saw an entire community of families that desperately needs extra care.
By working directly with hospitals and birthing centers, we are facilitating meaningful connections to growing families.  Our personalized line of products are available as hospital promotional products or as the most unique gift shop purchase loved ones can find.
Healthcare providers that partner with us are seen as leaders in the industry.  Having your logo on Funtastic Media products tells parents you're in this journey with them starting from day one. 
Funtastic Media donates a percentage of all proceeds to March of Dimes & St. Jude Children's Research Hospital.  These organizations are devoted to supporting the well-being of babies, as are we.
Due to the overwhelming response by parents and hospital staff, our products can now be purchased directly from SeeMeGrowMat.com  as well as VERME CRECER™ for Spanish-speaking mothers.       
This movement was born out of necessity and we can't wait to partner with you in it.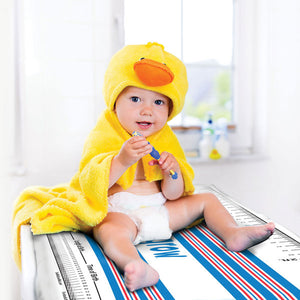 SEE ME GROW™ MAT
Finally, a growth chart made for babies! Attention new mothers!
Here is the first changing pad, nap mat, and growth chart, all combined into one product.
The SEE ME GROW Baby Ruler Growth Mat is now available directly to all parents seeking to unite the utility of child care with the satisfaction of tracking your baby's incredible development.
Now new mothers can chart their baby's growth every day, every week, and every month with our new Baby Ruler Growth Mat.
Wouldn't it be great to see how fast your little one is growing everyday?
Now you chart your baby's growth as often as you like with the SEE ME GROW mat changing pad. Chart your baby's growth spurts with 3 feet of priceless space on this unique changing pad.