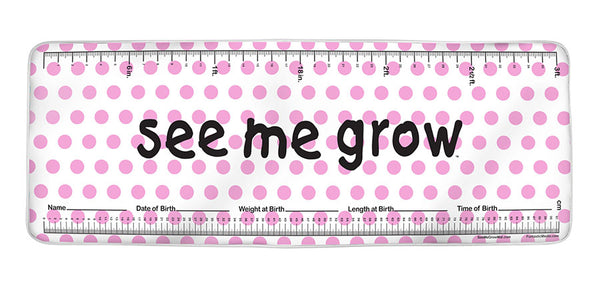 Pink Dots See Me Grow™ Mat
Finally a Growth Mat for babies. Quilted Travel Baby Ruler Growth Mat-changing pad.
Here's a must-have gift for new mothers, perfect to take to every physical checkup. You can write important information, becoming a true keepsake item.
Chart your baby's growth spurts with 3 feet of priceless space to outline your baby's hands and feet and remember forever their development.
Endorsed and used by leading Health Care systems nationwide.
Chart your baby's growth on the cloth-side with a growth chart.
Reverse side perfect for changing diapers when mothers are on the go.
Great for travel.
Folds and/or rolls to fit any baby bag.
Washable and dryable for everyday use.
Endorsed and used by Health Care Systems Nationwide.
Becomes a true Keepsake item.
Finally a Growth Mat for Babies. See your Baby's Growth Every day! New mothers can chart their baby's growth every day, every week, and every month with our new Growth Mat Changing Pad! Click on mats for more fabric selections!
Amazing Product
I ordered this product for my niece. What a great product. Now my SIL can track her daughters growth spurts becoming a true keepsake. The quality is great and the packaging was adorable. I also bought the blue dot mats for my twin nephews. Great purchase all around. I will definitely order more, makes a great gift! Ordering and receiving the items were so quick and easy. Thank you, See Me Grow!
So Soft and Delightful
What Cool Products! I love the ones I got for my baby girl – such darling patterns and the fabric has such a wonderful hand feel – soft, breathable and easy to wash. I got the Pink Dots mat. I also loved the story behind these products and how the founder created them for his son. I read that his products were purchased by Mario Lopez, Beyonce, Carmen Diaz, Nicole Richie … not that they were my influencers – but I knew he was getting a lot of buzz for these products so he had to be doing something right. Based on my order - He sure was! I also love to watch my little girl get bigger by the day. I want one of every color! Thanks so much for making these.