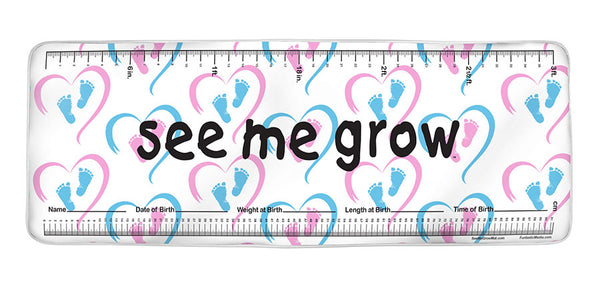 Hearts and Feet See Me Grow™ Mat
Finally a Growth Mat for babies. Quilted Travel Baby Ruler Growth Mat-changing pad.
Here's a must-have gift for new mothers, perfect to take to every physical checkup. You can write important information, becoming a true keepsake item.
Chart your baby's growth spurts with 3 feet of priceless space to outline your baby's hands and feet and remember forever their development.
Endorsed and used by leading Health Care systems nationwide.
Chart your baby's growth on the cloth-side with a growth chart.
Reverse side perfect for changing diapers when mothers are on the go.
Great for travel.
Folds and/or rolls to fit any baby bag.
Washable and dryable for everyday use.
Endorsed and used by Health Care Systems Nationwide.
Becomes a true Keepsake item.
Finally a Growth Mat for Babies. See your Baby's Growth Every day! New mothers can chart their baby's growth every day, every week, and every month with our new Growth Mat Changing Pad! Click on mats for more fabric selections!
great baby product
I bought this great gift for my sister in law who just had a baby boy. I was looking for something unique and useful. To my suprise , I came across the See Me Grow Mat chich is the perfect accessory for new parents. Something they will use and appreciate from day one. Your able to track their babies growth spurts and directly mark information onto the mat. I've never seen anything like this. I wish it was around when my daughter was a baby. I love the great quality and functionality of this mat. Perfect to take it anywhere. I love that it also becomes a keepsake. If your looking for a great gift I highly recommend the See Me Grow Matt.